The dual goals of the process engineering and energy generation industries of decreasing costs by increasing production efficiency, and of reducing environmental impact, has driven the operating temperatures of production facilities to ever higher levels. As a direct result the technical requirements for steel pipes have similarly been increased to new levels. Research and development undertaken by Eisenbau Krämer resulted in the company being the first in the world to produce longitudinally welded large diameter steel pipes in the normalised and tempered condition, industry approved as an alternative to seamless pipes. Also suitable for use as mother pipes for bends, EBK is able to offer the following steel grades:
ASTM A387 - Grade 91 (X10CrMoVNb 9-1)
ASTM A387 - Grade 92 (X10CrWMoVNb 9-2)
Eisenbau Krämer offers pipes suitable for high temperature service within the following dimension range:
Diameter: 18"-60" (450 mm - 1500 mm)
Thickness: 9,52 mm - 40 mm
Length max: up to 13.400 mm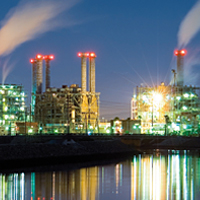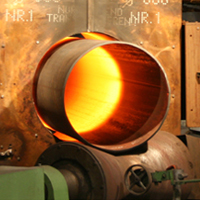 A critically important property of high temperature steels is a high resistance to creep rupture. Long term creep testing continues, however, test results from more than 15,000 hours already demonstrates the products suitability, and results from shorter term tests at higher temperatures is available upon request.

Good test results demonstrated the pipes comfortably passed the industry requirements. Eisenbau Krämer's investment in new heat treatment systems which enable pipes to be annealed above 1,040 °C (1,904 °F), results in materials that are fully austenized and tempered after the longitudinal welding is completed. This heat treatment guarantees the high creep rupture resistance, while simultaneously maintaining high dimensional tolerances.

Additionally, Eisenbau Krämer has exceeded the requirements of ASTM A691 with testing programmes to investigate and document the notch impact toughness, hot tensile strength, hardness etc. of the material, including testing after simulated post weld heat treatment as well as in the 'as delivered' (normalised and tempered) supply condition.

Eisenbau Krämer sets a new milestone based on many years of experience in manufacturing pipes made of high temperature steels such as Grade 22, Grade 5 or Grade 9.